NEW RELEASE "Lady C Acoustic"
... And Coming Soon -2017- HOT PLATE
. . .
Way back, in the dry hot summer of 2009.....
The Wednesday Night Jam took off when a group of strangers picked up their instruments and went parading through downtown Calgary. Sharing a love of improvised music, funk, soul, disco, afrobeat, and reggae, the Jam sparked a movement which has evolved into an 8-piece dance party called FREAK MOTIF.
Their live show is inspired by the spontaneity of their weekly jam sessions. Someone yells out a key, the percussion lights up, the band settles into a groove, The Weapons of Brass Destruction pierce the air with a melody, then vocalists and rappers come in with the verse and a hook.
Recently the band has brought some of their recorded songs into the live repertoire. 'We love the songs we've written and recorded, but improvising is always at the core of what we do,' says guitarist Stu Wershof, 'so we'll perform semi-arranged versions of our songs,' bass player Matt Walkey adds. 'The songs are a starting point, but we'll change the tempo, feature a singer on an instrumental track, surprise ourselves, you know?'
The Freaks have been performing and touring Canada for the last 7 years. Highlights include: the Victoria Ska Festival, Calgary Improv Festival, Smithers Midsummer Music Festival, Astral Harvest, Cirque de la Nuit, Twin Butte Soulfest, FozzyFest, Inshala Festival, Hinton Fohn Festival, Taste of Calgary, Calgary's Expo Latino, and the Bow River Flow. The spirit of the parade is always there, and shows often begin with the band marching in. Most recently they teamed up with the Calgary Junos host committee for the YYC Winter Parade, through downtown Calgary in February 2016.
The Freaks released their debut album LA CASA BLANCA in December 2012 to a sold out show in Calgary and great reviews: "Refined, cleverly arranged, and catchy as f**k" - ffwd magazine. As band members have moved around and lives changed, they released their follow up ACROSS THE NATION in January 2014, a 4 track EP full of "superb, groove-soaked, spaced-out" instrumentals. The title is a nod to the Freaks' inspiration and collaborations with musicians from Montreal to California to New Orleans.
On July 1, 2014 Freak Motif released KILLIN' ME, a limited edition 7" on Calgary funk/afrobeat label KEPT Records. Featuring the one and only Lady C on the A-side and the Busty and the Bass horns on the flip. "Modern funk of the very highest caliber." - Craig Charles, BBC Radio 2.
100+ shows since their first parade, Freak Motif is proud to have shared the stage and recording studio with great Canadian bands such as Five Alarm Funk, KC Roberts, and the Kalmunity Vibe Collective. They're set to release their 2nd full length album in 2017. Once again teaming up with the Busty horn section, the debut track "HOT PLATE" was released online Feb 29, 2016.
The Sounds of the Freak Motif
We're proud to team up with Calgary label KEPT Records to release our first Funk 45! Soulful female vocals from Lady C on the A-side and beefed up brass from the Busty and the Bass horns on the instrumental flipside. Killin' Me burns hot like Famous Flames, and offers a tip of the hat (crown?!) to classic KING Records releases, by taking classic, straight-up funk ingredients and cookin' them just right. Sing-along to the A-side and get fully funked on the flip. It's a new 45 but with a classic feel; it offers an homage to old times, and it guarantees good times once that needle hits the groove.
ACROSS THE NATION EP (Jan 2014) is a taste of the live Freak Motif experience. Four-on-the-floor beats, funky guitars, trippy synths, and some tasty horns... Produced over the course of 2013 during sessions in Calgary and Montreal, it features four instrumental tracks that serve as a taking off point for the live jam.
"An extraordinary example of indie production at its finest — the cool sound hits all the right buttons" -Beatroute
"Superb, groove-soaked, spaced-out" -Calgary Herald
Available as a FREE DOWNLOAD!
LA CASA BLANCA: REMIXES (Jan 2014). DJs and producers from across Canada were given stems to the tracks from La Casa Blanca and full license to take the tunes in whatever direction they wanted. The results are fresh, trippy, and unexpected. Featuring: Teekay (Calgary, AB) Mr. Moods (Laval, QC) Dustin Def (Calgary, AB) Metacosm (Calgary, AB) Conda (Toronto, ON) SmokedBeat (Montreal, QC) Compiled and mastered by Freak Motif. Available as a FREE DOWNLOAD!
LA CASA BLANCA (Dec 2012) is Freak Motif's debut album, produced by the band at their home studio. To keep the energy and spontaneity of their improvised live shows, most of the tracks were composed, arranged, and recorded in one session.
"A tasty melange of funk, hiphop, reggae and soul" -New Canadian Music "Refined, cleverly arranged, and catchy as f**k" -FFWD Weekly
Press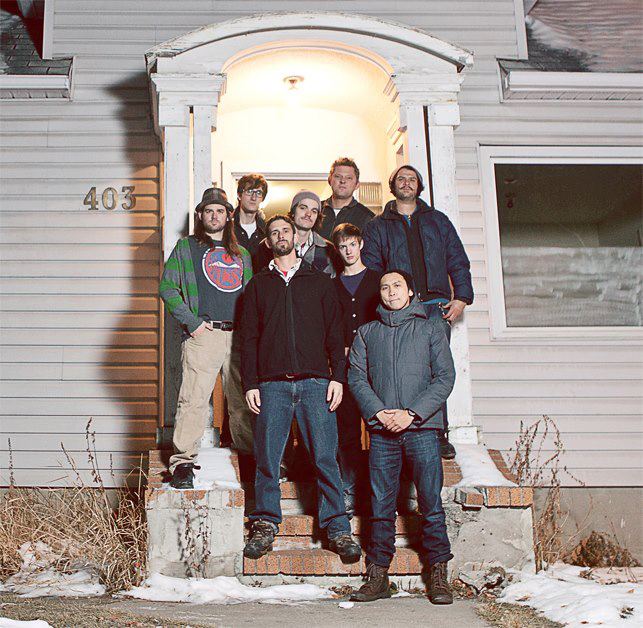 "[Across the Nation] is a superb new four-track instrumental EP — groove-soaked, spaced-out..."
"Big Ain't Big Enough" -Mike Bell, Calgary Herald, Jan 16, 2014

"La Casa Blanca's an impressive package... Refined, cleverly arranged, and catchy as f**k."
"Weapons of Brass Destruction" -James Wilt, FFWD Weekly, Dec 13, 2012

"Their unique reggae, funk, jazz, hip hop sound translates really well via studio album, but it's really their live performances that will blow your doors off!"
"Let's Get Freaky" -Calgary Is Awesome, Feb 28, 2013

"The energy and chemistry between all the artists is something that is really hard to create by force. It just happened in that band from the get go."
"Freak Motif takes jamming to new heights" -Travis Borstmayer, Calgary Journal, Nov 2, 2012

"...Fans were singing, clapping, playing percussion with any items they may have had on them and anything else excited people do when they get way into the spirit of the show."
"Expect the Unexpected" -Ernesto Tomas, Beatroute, Dec 10, 2012
For all booking and press inquiries e-mail: frkmtf@gmail.com Or Fill in the form below